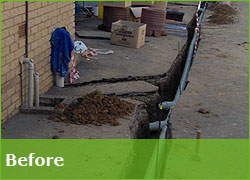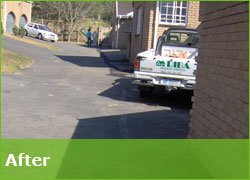 About Riba Building Services
RIBA Building Services was established in 2005 by Richard Archibald.
RIBA is Richard's full initials – Richard Ian Brian Archibald, it also stands for Royal Institute of British Architects. If you qualify as an architect in the UK you are entitle to use the letters RIBA after your name.
Richard was born in England, his father was an Architect and the family business was an Architectural Practice in Middlesbrough, in the North of England. Richard was always interested in the architectural side of things, reading drawings and trying to draw plans from an early age. He also often went out on site with his father; he would assist by holding the end of a tape measure or holding a levelling staff.

The family bought and moved into two older houses when Richard was about 9 years old, the houses needed complete modernisation and renovation. Richard and his brother Bruce were often to be found helping their father with the work, mixing mortar and carrying bricks. As they became older the two brothers would often work during school holidays and over weekends, for local builders who were friends of the family.

Richard also wanted to travel, so after finishing school he left home and went to work in London. From there he followed a varied career including the following: four years in the Army, working on oil rigs in the North Sea, ten years working on cruise ships and working for a pub company, running pubs in various parts of the UK. During all this time, when ever he was home he would drop back in to the building industry.

A major mile stone in his building experience was the re-building of his own house in Guisborough, Cleveland, England, during 1997.     
The last full time building job Richard had in England was as a carpenter for a local Guisborough, builder, building prisons in various different parts of England.
In November 2005 Richard and his family (Sharon, Josh and Michael) moved to South Africa, Sharon's home country.
RIBA Building Services was registered for VAT and Richard started trading as a Sole Proprietor. Since then the business has gone from strength to strength, turnover has increased on an average by 40% per annum, even 2009 has seen an increase of approximately 36%. The early years of any business are very difficult and there have been some major challenges, but during the first four years RIBA has become NHBRC registered, become registered contractors for Corobrik, joined BNI and become members of the Pietermaritzburg Chamber of Business.
Richard is planning to register the company as a PTY during the course of 2010.
Future plans include franchising the business model for aspiring builders.
RIBA has become well known around Pietermaritzburg in the last four years and is fast becoming one of the established building contractors in the city. We currently employ between sixteen and twenty two people.
We have worked hard to build a reputation of reliability, attention to detail and professionalism.
What ever your building needs or idea's please don't hesitate to contact us for advice or quotations.