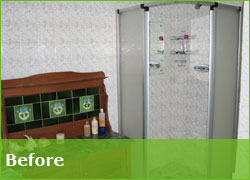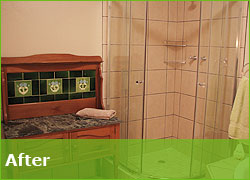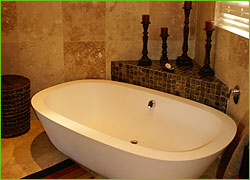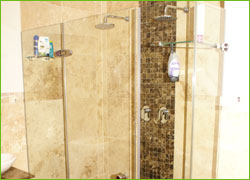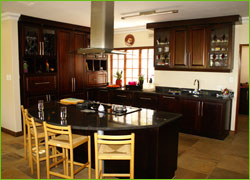 Bathrooms and Kitchens
Possibly two of most important area's in most houses, both from a personal point of view and a re-sale or valuation point of view.
RIBA has completed a large number of bathroom and kitchen alterations/additions over the last few years. These alterations/additions are extremely personal and which ever contractor you choose to use, they will be working in a very personal space within your home, this can be very intrusive. There will also be dust, noise and disruption to your normal routine through out the duration of the contract.
We pride ourselves on our empathy to your situation and our cleanliness at the end of each day, so that as far as possible we leave your home still feeling like your home, during the course of the alteration/addition.
Other things to consider if you are going to carry out alterations/additions to your bathroom or kitchen:
Under floor heating – does not just heat the floor, but is calculated for the volume of the room to provide an agreeable temperature to the entire room.
Installation of heated towel rails – it is always pleasant to have warm towels to use, when you get out of the shower or bath.
Extractor fans – these can be linked to the light switch in a bathroom, so that they come on automatically, particularly useful in winter when you may not want a window open to get rid of steam etc. Best practice is have the fan extract direct to the atmosphere or be ducted to the atmosphere. Fans that just extract to the loft or re-cycle through filters are not as efficient and can be problematic.   
New ceiling – if you are going to spend money on renovating a bathroom or kitchen, consider a new ceiling and/or new cornices.
New glass to windows – it is relatively simple to change the glass in existing windows and can make a dramatic difference to the finished result.
Alterations and/or additions to your existing electrical system - Most older kitchens do not have as many electrical sockets, as we need to accommodate the appliances we like to use nowadays. Consider adding some additional electrical sockets and possibly changing the lighting style.
With electricity charges on the increase, I think you should consider the installation of a gas geyser or a solar water heating panel, or a combination of both.
Alarm systems may need alterations or additions.   
Variation orders/extra's – I cannot remember completing any contract that did not incur some variations or additional costs to the original quotation. RIBA is happy to carry out additional work and it is actually a very cost effective way for the client to get that work done. We have the tools, man power and expertise on site already, to carry out those additional tasks. This means it does not involve any additional set up costs for us. Obviously though we must charge for any additional work we carry out.  
Which ever contractor you use to carry out your project, you must ensure that at the very least you have a written, itemized quotation, detailing exactly what work they intend to carry out and what they have not allowed for. You can also use a formal contract, there is a standard "House and Small Buildings Contract" available from the Master Builders Association for approximately R80. If there is an agent (e.g. Architect, Project Manager) liaising between the client and contractor then a J.B.C.C. contract can be used.