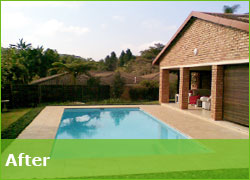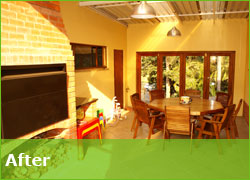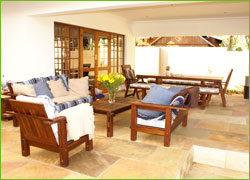 Entertainment Areas
Entertainment area's, pubs and pools are an important feature of any house. There are many different options and you are limited only by your own imagination as to what style, features and equipment you want to include in these areas.
RIBA has completed a number of entertainment areas and pool areas.
As far as actual pool work and thatching, we outsource these specialist trades.  
Things to consider if you are going to carry out improvements or alterations to your entertainment area:
If you need to build an additional area on to your home for the entertainment area, the existing roof of the house could be a deciding factor in how the addition is designed. Careful thought should be given as to how the roof on any addition links in with the existing roof.
You may well need plans and planning permission from the local municipality. You may also need engineer's drawings, depending on ground conditions, foundations, concrete work etc.   
Building lines and the percentage of the site covered by any permanent structures also need to be considered. An architect or architectural technician can give advice on these regulations.
Consider access to the pool area if you have one.
Take note of where the sun will shine on to the new entertainment area.
Additional items that you may want to consider are: built in braai's and or pizza ovens.
If the sides of the area are open, you may want to fit retractable screens for use during bad weather.
A bar or pub.
Pool table, table tennis table, dart boards.
Variation orders/extra's – I cannot remember completing any contract that did not incur some variations or additional costs to the original quotation. RIBA is happy to carry out additional work and it is actually a very cost effective way for the client to get that work done. We have the tools, man power and expertise on site already, to carry out those additional tasks. This means it does not involve any additional set up costs for us. Obviously though we must charge for any additional work we carry out.   
Which ever contractor you use to carry out your project, you must ensure that at the very least you have a written, itemized quotation, detailing exactly what work they intend to carry out and what they have not allowed for. You can also use a formal contract, there is a standard "House and Small Buildings Contract" available from the Master Builders Association for approximately R80. If there is an agent (e.g. Architect, Project Manager) liaising between the client and contractor then a J.B.C.C. contract can be used.