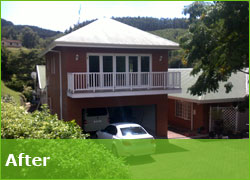 New Builds
For most people, the biggest single purchase they make during their life is their house.
It is also a dream for a lot of people to build their own house, to their own design and specification.
The complexity of the project, the time involved at all stages, the final cost and the possible stress, should not be under estimated. In addition to the actual cost of the build it must also be remembered that living accommodation will be needed during the course of the project.     
Plan, plan and plan again; if you consider that major building projects like airports, shopping centres, bridges, roads etc often go over budget and over time, even though they have a multitude of professional people involved, then you start to get an idea of  the magnitude of completing your project on time and to budget. The major projects are planned well in advance, often years and have experts from every field involved.
One of the problems with building is that there are so many variables. Different people and different companies to rely on, to supply or produce on time, at an agreed cost. It only takes one or two variations to the original plan, to have an impact on the final cost or completion date of your project. Don't forget the weather; this can also have huge impact on the time to complete the project.          
Do lots of research into every thing but particularly finishes. There is a huge range of choice and price for all finishes - tiles, sanitary ware, taps, kitchens, work tops, appliances and every thing else. There are also some very clever and innovative products out there. Look in magazines, on the internet, speak to friends and go and look at new developments in your area for ideas. 
I would also suggest that you do some research into energy saving devices and systems. Insulation, water re-cycling, solar power, gas power and many more.   
Things to consider if you are going to build your own home:
Depending on the size and budget of your proposed new home you should employ a team of professionals to assist and advise you. This team would probably include an architect, a structural engineer, quantity surveyor, land surveyor and possibly an electrical engineer, air conditioning engineer, interior designer, landscape gardener. Their advice, ideas and experience will be invaluable.
Members of the above team will also be able to advise you on different pricing techniques, but please also look at our advice with regard to pricing and cost per square metre. Be cautious of PC sums, with an accurate set of drawings and specifications all trades should be able to give an accurate quotation.
There will be a need for a formal, signed, contract to protect both you as the client and the building contractor.
All new build houses should be registered with the NHBRC, regardless of whether you need to use a bond to access funds or whether you have sufficient funds in your own right. The NHBRC cost is worked out on a sliding scale, depending on the total, final cost of your new home, including the cost of the land.    
You will need plans and planning permission from the local municipality. You may also need engineer's drawings, depending on ground conditions, foundations, concrete work etc.
There may be a requirement for a geotechnical investigation.
Setting out of the new building should be done by a Land Surveyor; to try and force this task on to the contractor and/or the architect is an unacceptable risk to all concerned.    
If you are planning to sub-divide a property you will need a Land Surveyor to establish existing and new boundaries.
Building lines and the percentage of the site covered by permanent structures also need to be considered. It is wise to ask the Planning Department of the local Municipality for a formal zoning certificate rather than rely on verbal advice with regard to building lines etc. Title Deeds should also be checked for restrictive clauses. An architect or architectural technician can give advice on these regulations.
In the case of a newly built property there will obviously be the additional cost of connection to Municipality services, water, electricity and sewers; if these services are available in the area. Do not under estimate these costs; if the proposed property is some distance from the nearest existing services the costs can be considerable. 
Variation orders/extra's – I cannot remember completing any contract that did not incur some variations or additional costs to the original quotation. RIBA is happy to carry out additional work and it is actually a very cost effective way for the client to get that work done. We have the tools, man power and expertise on site already, to carry out those additional tasks. This means it does not involve any additional set up costs for us. Obviously though we must charge for any additional work we carry out.    
Which ever contractor you use to carry out your project, you must ensure that at the very least you have a written, itemized quotation, detailing exactly what work they intend to carry out and what they have not allowed for. You can also use a formal contract, there is a standard "House and Small Buildings Contract" available from the Master Builders Association for approximately R80. If there is an agent (e.g. Architect, Project Manager) liaising between the client and contractor then a J.B.C.C. contract can be used.