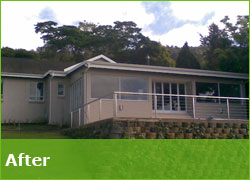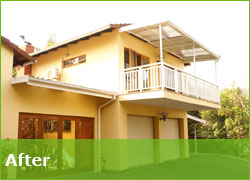 Residential - Major Alterations and Renovations
Although the property sales market is slow at the moment, in the last six to eight years there has been a significant increase in property values in South Africa. This means there are a lot of people with large amounts of equity in their existing properties and quite often, relatively small bonds.
One way of realizing this equity is to invest money in improving the home you already have. In this current market it is difficult to improve your home by selling it and buying something bigger and better, or in a better location. This means there are a lot of people improving what they already have.
Alterations and additions are invariably very intrusive, noisy, dusty and generally disruptive to your daily routine. Depending on the scale of the project the contract can also last for a number of months.
RIBA has completed a number of major alterations over the last few years and if references are required we are happy to supply contact details of previous clients. One of the most disruptive tasks that is often carried out during alterations is the chasing of walls to accommodate electrical conduits, TV ariel cables or water pipes. RIBA has a chasing machine which incorporates a dust extraction system to minimize the dust produced from this task. Anyone who has seen or experienced chasing being carried out with a regular angle grinder, will testify to the unbelievable amount of dust created and the extent to which the dust permeates ever corner of the house. We pride ourselves on our empathy to your situation and our cleanliness at the end of each day, so that as far as possible we leave your home still feeling like your home, during the course of the alteration/addition.
Things to consider if you are going to carry out major alterations/additions to your home:
Employ an architect or at the very least a competent architectural technician, his or her advice and experience will be invaluable.
You will need plans and planning permission from the local municipality. You may also need engineer's drawings, depending on ground conditions, foundations, concrete work etc.
Generally it is accepted practice to design any additions to match the style and materials used for the existing building. With older buildings it is sometimes difficult to get exactly the same materials, but there are suppliers who specialize in second hand building materials.    
The roof of an existing property is often a deciding factor in how any addition is designed. Careful thought should be given as to how the roof on any addition links in with the existing roof.
If you are planning to sub-divide a property you will need a Land Surveyor to establish existing and new boundaries.
Building lines and the percentage of the site covered by permanent structures also need to be considered. It is wise to ask the Planning Department of the local Municipality for a formal zoning certificate rather than rely on verbal advice with regard to building lines etc. Title Deeds should also be checked for restrictive clauses. An architect or architectural technician can give advice on these regulations.
When carrying out major alterations the existing services should be checked to establish if there is sufficient capacity to accommodate the additional loads. The electrical system in particular can easily be overloaded with the addition of things like air conditioning and under floor heating.     
With electricity charges on the increase, I think you should consider the installation of a gas geyser or a solar water heating panel, or a combination of both.
Alarm systems may need alterations or additions.  
If you are sub-dividing or building a separate cottage on your property, you make well need to consider alterations to your boundary wall or fence and possibly an additional driveway.
Variation orders/extra's – I cannot remember completing any contract that did not incur some variations or additional costs to the original quotation. RIBA is happy to carry out additional work and it is actually a very cost effective way for the client to get that work done. We have the tools, man power and expertise on site already, to carry out those additional tasks. This means it does not involve any additional set up costs for us. Obviously though we must charge for any additional work we carry out.   
Which ever contractor you use to carry out your project, you must ensure that at the very least you have a written, itemized quotation, detailing exactly what work they intend to carry out and what they have not allowed for. You can also use a formal contract, there is a standard "House and Small Buildings Contract" available from the Master Builders Association for approximately R80. If there is an agent (e.g. Architect, Project Manager) liaising between the client and contractor then a J.B.C.C. contract can be used.